The arrival of the solstice means longer days, shorter work hours (hopefully), and late-night summer soirees. Outdoor entertaining is always enjoyable, but a few luminous accents can really put the icing on the cake! Check out our favorite ideas for unique ways to light up the night in style if you're looking for some new ways to lace your next outdoor event with some twinkle. The nightlife is an important part of how we spend our time in this hot weather. For example, when it gets dark, we frequently entertain friends or host a family party in the backyard. At the moment, we require light to illuminate the night and create a brilliant atmosphere. You don't have to go out and buy some expensive lights. In fact, we can do something special with the standard incandescent lights in your home to add a beautiful radiance to the yard. 
This fun and functional indoor and outdoor lighting options will add twinkle and ambiance to your summer nights.
CANDLE JARS
Begin this up cycle by cleaning and removing the labels from the jars. Then, wrap some wire around the neck to make a loop that can be used for hanging. Fill halfway with sand and place your candle or tea light in the center. They can be hung anywhere and everywhere!
FEATURE LIGHTS
Lights can be threaded through the woodwork or woven into the foliage. Choose solar power for environmental and financial reasons! These exposed bulbs are a fantastic feature. Wrap it around tree trunks to create an enchanted forest effect.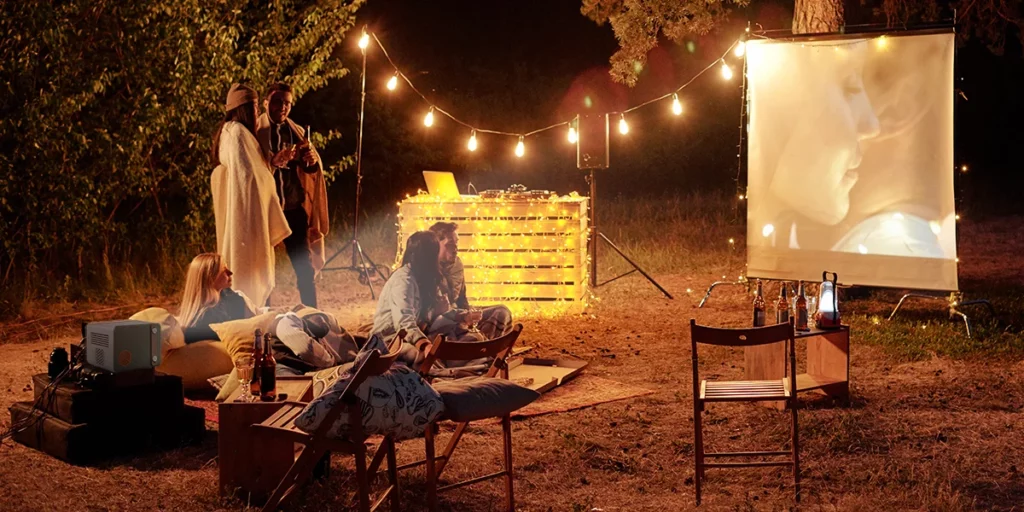 PAPER LANTERNS
These are simple to make using colored paper bags and a string of fairy lights. Simply cut a small hole in the bottom of the bag, insert the light, and seal with tape. The bag's top can be closed – and some ribbon can be added for extra flair.
TIN CAN LANTERNS
Tin can lanterns are adorable and can be customized to your liking. Begin by emptying your old cans and removing the labels. The can should then be frozen to prevent the metal from bending too much (fill with water and pop in the freezer overnight). Then, using a nail and hammer, puncture your design. You can freestyle the design or draw it on the can for a more structured look.
When finished, fill the can with sand and insert your tea light. Observe how the patterned light spreads across the garden.
WINE BOTTLE TIKI TORCH
Fill one-third of the bottle with glass stones or pebbles, followed by liquid paraffin – for the best insect repellent, use a citronella scent. Then you will need a copper coupling (1/4 inch x 3/8 inch) to fit into the mouth of the bottle – wrap it in Teflon tape to ensure a snug fit. Insert the wick and tighten the coupling. You're now ready for some fantastic Tiki lighting!
MASON JAR LIGHT
You can up cycle any food jars you have lying around the house or purchase new ones from a store like Hobby craft.
Then, rip up pieces of paper (newspaper or tissue paper will do) and glue them to the outside of your jar. Use a variety of sizes and colors for a more vibrant effect, or stick to a single pattern for a cleaner look. Finish with a tea light (with the lid off), or use a battery-operated light if you prefer. Lovely Lighting for a true one-of-a-kind and magical garden.
String Together Magic
Wrapping a few large trees with string lights is an effective way to create an intoxicating air of romance and drama for a truly fairytale-like setting.
Make your Summer Cocktails Shine
Summer should be celebrated properly drink in hand, lights all around! The bar-ware collection includes a wide range of bar items such as light-up shot glasses, LED summer tumblers, and light-up wine glasses. When you want to throw the coolest party, this is the section to look at.
Readymade chandelier
Add a readymade chandelier above your favorite dining spot to your patio to add an extra sense of elegance for summer nights spent dining under the stars. A simple, small chandelier will fit perfectly over your patio dining area and provide just the right amount of lighting for you to enjoy your evening meals. When compared to pillared candles, this will emit a significantly greater amount of light.
Pool Deck Lighting
There's probably a lot going on around your pool. In-ground lights, as opposed to above-ground directional lights, are an excellent way to illuminate the path. There's no need to be concerned about the lights being bumped, damaged, or tripping your active guests.
Don't Forget the Dimmers
All of your pool area lightings can be automated and fully dimmable using your preferred smart device. You can dim your lights as much or as little as you need to create the ideal poolside ambiance, from pergola bistro lighting to down lighting. Dimming the lights will prevent you from feeling as if you are dining under a spotlight and will allow your pool area lighting to complement candles and outdoor fireplaces.
Find the Right Match
You should make certain that your garden lighting complements your landscaping. Choose path or bollard lights that will blend in with your garden's stone walls or walkways. Grey or neutral tones complement stone features the best, but they also look great with green shrubbery and colorful flowers.
Classic and Contemporary Vibes
Choose outdoor floor lamps with unique designs to incorporate traditional and contemporary themes into your balcony or rooftop garden. A dark metal arm evokes vintage street lamps, while unique shades provide an eye-catching way to incorporate some modern style.
Minimalism on Display
One of the most versatile lighting fixtures for illuminating gardens and outdoor walkways is the classic bollard light. Choose a minimalist bollard light to draw attention to the flowers, plants, or rocks in your garden. A simple, elegant design will not detract from the natural features on display.
Keep Walkways Clean and Simple
Choose path lights that add powerful illumination without cluttering the space to give your garden walkways a clean look. Round path lights will direct light downwards to illuminate important areas while adding a subtle dramatic flair. If you're stuck on a color scheme, versatile black path lights are a safe bet.
Contemporary Charm
Lighting is essential for creating visual balance in the modern home's front yard. Outdoor wall and path lights with clean lines and geometric shapes will complement the modern design of your yard. Outdoor landscape lighting that is evenly spaced will layer the light and provide symmetry.
Outdoor lighting can be used in a variety of ways to improve the experience and ambiance of your garden. Look for garden lights that are UL listed or wet rated so that they can withstand Mother Nature's elements all year. LED landscape lighting is another excellent choice for long-lasting, energy-efficient illumination. The right lighting can allow you to enjoy and use your garden at any time of day or night.